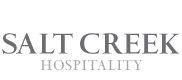 INTRODUCTION
SALT CREEK HOSPITALITY, LLC was formed in 2009 to pursue investment opportunities in the hospitality industry, and to provide related advisory services, and continues to be active in those areas.
SPONSORSHIP
The Company is one of the business interests of the family of Douglas Geoga, which have included, through various entities, investments in lodging, gaming, student housing, residential substance abuse treatment, and a variety of other commercial real estate and financial interests.
BACKGROUND OF DOUG GEOGA
Following several years of private legal practice, Doug Geoga enjoyed a 23 year relationship with the Pritzker family of Chicago in which he held a variety of hospitality-related positions including president of Global Hyatt Corporation, the holding company formed to consolidate the worldwide operating and real estate businesses of the Hyatt Hotel chain and predecessor to Hyatt Corporation (NYSE:H), and president of the Hospitality Investment Fund LLC, a private equity investment vehicle focused on the hospitality sector.
Since 2006, Mr. Geoga has acted as a principal of Geoga Group, LLC, a family investment company, and as president of Salt Creek Hospitality, LLC. In connection with various investment activities, Mr. Geoga also has served as chairman of the Extended Stay Hotels chain since it was acquired by an investment group including affiliates of Centerbridge Capital Partners, Paulson & Co, and The Blackstone Group, and since it was acquired by an investment group including affiliates of the family office of Nicholas J. Pritzker, as chairman of Foundations Recovery Network, LLC, which owns and operates residential and outpatient substance abuse treatment centers in the United States. Mr. Geoga has also served on numerous business and civic boards including the board of Kemper Corporation (NYSE: KMPR) where he presently serves as chairman of the compensation committee and as a member of the audit and investment committees, and he has recently completed a term as an elected trustee of the Village of Hinsdale IL.
CONTACT INFORMATION
Please contact Doug Geoga at
doug.geoga@saltcreekhospitality.com